Certification Renewal
Important Tools & Information
Forms and Requirements (see below) - We do not want the recertification process to be a source of stress or anxiety for you. All of our forms are now online at the ETCP Information Portal. If you find the forms difficult to deal with or have questions, please email us at etcp@esta.org. 
Essential Personnel: ETCP/IATSE Initiative - We have been working with the IATSE to spread the word that our technicians are available… Read more about the effort. Interested in offering your skills? Sign Up Here! Please help spread the word that we are accepting ETCP Applications, and some centers are open. Essential Personnel status allows our candidates to test immediately at a limited number of testing centers (appointments necessary).
ETCP Information Portal - Recertifying for a 2ND or 3RD time? We need a new photo. Be sure you are taking advantage of your online profile – this is your tool for marketing. 
Reimbursement from IATSE - The IATSE Training Trust Fund reimburses its members for their recertification fees: Complete the form and include a digital copy of your receipt and certificate.
List of Helpful Links and Resources - geared towards the entertainment industry, ESTA has compiled an impressive group of resources that provides links to aid small businesses, employers and technicians guidance for employers as they assess risks in the workplace. 
IATSE C.A.R.E.S– updated daily, this website provides COVID-19 updates from health organizations around the world, in addition to member resources.
USITT Industry Resources - day-to-day updates regarding free online learning, job listings and a link to Disaster Unemployment Assistance.
Comprehensive Free Training List – Magnum company included opportunities for industry-wide free training.
---
General Requirements:
As entertainment technology continues to evolve, continuing professional development and education are essential.
Your ETCP certification is valid for 5 years. To maintain your certification, you must:
1. Do one of the following over the 5-year certification period:
Accumulate 40 renewal credits (see table below) from a combination of professional experience and education*
Accumulate 10+ education renewal credits* and retake the certification exam

*It should be noted that ETCP Certified Technicians may cross-train, meaning riggers can take electrical courses for points and vice versa.
2. Submit a Log Book:
These documents are due eight weeks prior to your recertification date.
Late renewal applications will not be accepted.

Fees
Each recertification costs $250 for members of: ESTA, AMPTP, The Broadway League, CITT, IATSE, IAVM, InfoComm International, TEA, and USITT. The fee for non-members is $300. Checks must be made out to ESTA.
Effective December 16, 2016, the IATSE Training Trust Fund will reimburse the full cost of ETCP recertification ($250) for eligible IATSE members.  Active IATSE members can apply for reimbursement of re-certification fees. For more information: https://www.iatsetrainingtrust.org/certification-reimbursement/
---
Experience / Credits Chart: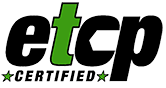 CERTIFICATION
RENEWAL
> Certification Renewal
Are You Retiring?