Are You Retiring?
ETCP offers a Retired Status for ETCP Certified Technicians who have decided to hang up their toolbelt. If you choose to retire, please fill out the Confirmation of Retirement / Request Form.
By Becoming ETCP Retired, I will:

Replace the designation(s) previously granted to me by ETCP to include: (Retired) or (Ret.) [e.g., ETCP (Ret.) or ETCP (Retired)].
Be able to use the ETCP Retired Logo in my correspondence.
Not compete with current ETCP Certified professionals by performing, or offering to perform, any professional rigging/electrical work, including consulting services.
Share my experience and expertise by teaching my craft when the opportunity arises.
Not be required to meet the continuing professional development requirement for ETCP Certified Technicians.
Retake the certification exam in the event I choose to come out of retirement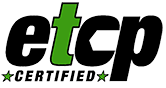 CERTIFICATION
RENEWAL
Certification Renewal
> Are You Retiring?