Tools for Trainers
ETCP has developed some tools which will assist you in ensuring ETCP Certificants receive the appropriate credits towards certification renewal from your courses. Trainers are responsible for submitting the names of ETCP Certificants seeking renewal credits and the number of training hours to be awarded at the conclusion of each course.
Please ask if there is anyone in your class that is participating for renewal credits. If so, please have them sign in on the Certificant Attendee Sign-in Sheet (PDF).
ETCP has developed a Course Evaluation Form (PDF) to help ensure the excellence of the program. All Trainers are requested to hand out the form to attendees at the end of their courses. These forms should be returned by the attendees directly to ETCP.
The ETCP Practice Examinations can serve as a useful tool for your training. We encourage you to use the exams in your courses but, as this may preclude students from purchasing the exams on their own, ETCP has instituted a Licensing Agreement (PDF). If you choose to offer a preview of the practice exams in your training, you may purchase a practice exam for $40 which allows you 30 days of use at www.etcp.esta.org/practiceexams. You are requested to provide ETCP with a licensing fee of $15 per student. You may subtract the $40 purchase fee when you pay the licensing fee.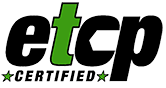 TRAINING
Training
> Tools For Trainers
---
Electrical Training Programs
Electrical Trainers
---
Rigging Training Programs
Rigging Trainers
---
Portable Power
Distribution Programs
Portable Power Distribution Trainers