I Am An ETCP Certified Technician:
Where Can I Find Training For Renewal Credits?

INNOVA, an initiative of ESTA and USITT, offers online on demand training and many of the courses carry ETCP Renewal credits.
Participants in professional development training are encouraged to provide general feedback about the trainer or course. Please use the ETCP Course Evaluation Form (PDF).
If you have a specific concern about the behaviors and practices of an ETCP Recognized Trainer or Program you may submit a formal complaint. Please use the ETCP Recognized Trainer Complaint Form (PDF).
---
I Want To Have My Training Course(s) Be ETCP Recognized:

Benefits of becoming an ETCP Recognized Trainer and/or teaching an ETCP Recognized Course
ETCP Certified Technicians will receive twice as many renewal credits, making your course
more attractive
You'll gain more exposure: approved trainers are listed on the website with contact information. Programs and providers are listed on the ETCP website with a dedicated page including logo, contact information, and training details
Courses submitted to ETCP will be listed in The ETCP Certifiable News, our quarterly newsletter.
ETCP Recognized Online Courses
Trainers and those providing training may apply to have their online courses recognized. If you are interested in developing training or having your online course Recognized, please see Guidelines for ETCP Recognized Online Training (PDF).
Practice Examinations
Instructors may offer a preview of the practice exams during their training. For $40, you may purchase a Practice Exam, which will be available for 30 days. We request that you provide a licensing fee (PDF) of $15 per student and you may subtract the $40 purchase fee from your total.
Trainer Recognition
ETCP Trainer Recognition recognizes experienced instructors that meet specific criteria. ETCP Recognition is for renewal credits only.
You should apply to become an ETCP Recognized Trainer if:
You are an experienced trainer who is ETCP Certified.
You teach courses to a variety of audiences and adjust your curriculum to suit different audiences.
Note: If your training is conducted solely as in-house training for an individual company, you will need to apply for Training Program or Training Provider Recognition.
How much does it cost?
There is a one-time fee of $250, and Recognized status is subject to review by the ETCP Disciplinary Committee should there be a valid complaint.
How do I apply to become an ETCP Recognized Trainer?
Training Program or Provider Recognition
Courses and programs that are relevant to the ETCP Content Outlines for Arena & Theatre Rigging, Entertainment Electrician and/or Portable Power Distribution may apply to have their course(s) ETCP Recognized, which provides Certified Technicians with full renewal credits. (i.e., 1 point per hour of attendance). ETCP Certified Technicians must gain a total of 10 educational renewal credits and courses that carry full credit are a more attractive option for those seeking to fulfill their educational requirements.

All educational and training programs are subject to an administrative review and recognition process by members of the ETCP Certification Council.

You should apply for Program or Provider Recognition if:
Your organization offers a variety of training programs in rigging, electrical, and/or portable power distribution.
Your courses utilize a number of instructors.
Your courses may have multiple presentation dates and you may present sessions that are segments of the approved curriculum.
You are an individual trainer, but not an ETCP Certified Technician.
How much does it cost?
ETCP Training Program Recognition is valid for two years for one course and the fee is $1000 ($500 for non-profits - documentation required).
ETCP Training Provider Recognition is valid for two years for up to 10 courses and the fee is $2500 ($1250 for non-profits - documentation required).
How do I apply for Program Recognition?
To have one course recognized, complete the ETCP Training Program Recognition Application and the Limited License Agreement (PDF) or for up to 10 courses, complete the ETCP Training Provider Recognition Application and the Limited License Agreement (PDF).
Attach a schedule and course outline indicating the program topics and length, including scheduled breaks and meals.
Include a list of instructors (including biographies, CVs, and/or resumes) involved in the program.
Include a brief program description that identifies the intended audience and program objectives.
Please do not send any payment. You will recieve an invoice once your application has been processed.
Return the form, along any necessary documentation to: ESTA, Entertainment Technician Certification Program (ETCP), P.O. Box 23200, Brooklyn, NY 11202-3200.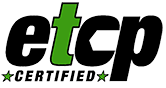 TRAINING
> Training
Tools For Trainers
---
Electrical Training Programs
Electrical Trainers
---
Rigging Training Programs
Rigging Trainers
---
Portable Power
Distribution Programs
Portable Power Distribution Trainers