Recognized Rigging Training Programs
American Crane and Safety, LLC


American Crane & Safety, LLC
1410 Florida Moss Lane
Port Orange, FL 32128

Contact Information:
Julie Weldon,


ETCP Recognized Training Program since July 15, 2019
This Level 1 Entertainment Rigging Safety Training provides the necessary training to designate the employee as a competent basic rigger. We cover OSHA and ASME regulations, proper inspection and use of slings and rigging hardware. Appropriate for arena and theatre riggers, this course also covers fall zone, rating charts, sling angles, center of gravity and much more.

Our Entertainment Rigging courses are designed to provide participants with the ground-rigging basic knowledge of inspecting rigging gear, load control, rigging procedures and techniques used in the entertainment industry through a problem-solving workshop and videos.

Our Basic Entertainment Rigging and Inspection courses are taught by highly trained and experienced instructors and cover the following topics:
Terms and Definitions
Safety Standards and Regulations
Inspections
Wire Rope Slings proper inspection and use
Chain Slings proper inspection and use
Web Slings proper inspection and use
Round Slings proper inspection and use
Wire Strand Slings proper inspection and use
Rope and Rope Slings
Rigging Hardware and Hooks
Hoists
Rigging Fundamentals
Tensions and Angles
Truss Systems
Anchoring Locations
Static and Dynamic Loading
Safety Cables for Lights and Speakers
Working on the Grid
Sling Hitches
Locations
Online - our online Entertainment Rigging and Fall Protection training courses feature problem-solving workshops and videos and qualify for ETCP renewal credits
Onsite - we come to you with everything needed to qualify your employees
Scheduled rigging class at locations throughout the US – these courses are also eligible for ETCP renewal credits.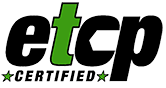 TRAINING
Training
Tools For Trainers

---
Electrical Training Programs
Electrical Trainers
---
Rigging Training Programs
Rigging Trainers
---
Portable Power Distribution Programs
Portable Power Distribution Trainers