About ETCP
The Entertainment Technician Certification Program (ETCP) has united an unprecedented group of industry organizations, businesses, and subject matter experts to craft a program of rigorous assessments for professional technicians. Because we're focused on the health and safety of crews, performers, and audiences, we certify the following technicians: Arena Riggers, Theatre Riggers, Entertainment Electricians, and Portable Power Distribution Technicians.

Personnel certification is the voluntary process by which a nongovernmental organization grants recognition to an individual who has demonstrated mastery in a discipline. ETCP is responsible for:
Creating exams based on identified bodies of knowledge
Conducting said exams
Awarding certifications
Managing certification renewal
ETCP is a program of ESTA. Along with representatives from ESTA, content and industry experts, and large-scale employers, the following organizations maintain seats on the ETCP Council:
Alliance of Motion Picture and Television Producers (AMPTP)
Canadian Institute for Theatre Technology /
Institut Canadien des Technologies Scénographies (CITT/ICTS)
International Alliance of Theatrical Stage Employees (IATSE)
International Association of Venue Managers (IAVM)
The League of American Theatres and Producers
TEA
United States Institute for Theatre Technology (USITT)
ETCP Certification Council membership also includes the following entertainment business leaders:
Cirque du Soleil
Disney Theatrical Productions
Encore Global 
Live Nation
NBC Universal
PRG
Walt Disney Park and Resorts
| | |
| --- | --- |
| | In 2015, ETCP celebrated its 10th Anniversary! To view the anniversary edition of Protocol magazine, please click here. |
---
ETCP Mission Statement
We endeavor to develop a Personnel Certification Program to the highest standards that recognizes individuals who have demonstrated knowledge, skills, and abilities in specific entertainment technology disciplines. By providing a thorough, independent assessment of aptitude, ETCP strives to enhance safety, improve performance, stimulate training, reduce workplace risk, and give due recognition to the professional skills of entertainment technicians.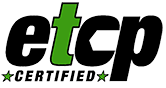 ABOUT
> About ETCP
Code of Ethics
Council Members
FAQ
Staff Listing
Test Developers
ETCP SPONSORS
Sponsors
Media Partners
ETCP NEWS
ETCP Press
ETCP Press Archive
Protocol Articles