ETCP News: Protocol Articles
2019
WINTER
Title:
A Recent Rock and Roll Tour Highlights How ETCP is Fulfilling Potential
Author:
 Justin Argenio, To the Moon Rigging
SPRING
Title: Fortitudine Vincimus
Author: Dawn Copeland, I.A.T.S.E. Studio Mechanics Local 476
SUMMER
Title: No Luck Needed When You Rig It Safe, Rig it Right, and Rig for Success
Author: Andrew Fulton, I.A.T.S.E. Local 720
2018
WINTER
Title:
ETCP Rigging Certification in an Educational Setting
Author
: Andrew Young, San Diego State University
SPRING
Title: ETCP Certification Makes a Difference
Author: Tracy Nunnally, Vertigo Labs
SUMMER
Title: ETCP: The Beginning, Not the End
Author: Andrew Boucher, High Output
FALL
Title: ETCP Updates Portable Power Distribution Technician Eligibility Requirements
Author: Meredith Moseley-Bennett, ETCP Certification Manager
2017
WINTER
Title:
The History of End-User Training
Authors:
David Fox and Kathy Williams, ETC
SPRING
Title: From the Frontier to the Future
Author: Rick Crum
SUMMER
Title: The ETCP and Me
Author: Mark Hogan
FALL
Title: How Important is ETCP Certification?
Authors: Brian Bennett and Reed Rigging
2016
WINTER
Title: ETCP Council Approves New Power Distribution Technician Certification
Author: Meredith Moseley-Bennett, ETCP Certification Manager

SPRING
Title: ETCP Launches the Portable Power Distribution Technician Certification
Authors: Meredith Moseley-Bennett, ETCP Certification Manager and Zachary Irwin, Psychometrician

SUMMER
Title: Production Electrician: Same Job Title, Different Career Paths, Both ETCP SMEs
Authors: Rick Baxter and Rob Baxter

FALL
Title: PPDT Certification: In French, s'il vous plaît
Author: IATSE Local 514 Team
2015
WINTER
Title:
ETCP Certification Raises the Industry to a Higher Standard
Author:
Robert J. Culley, The Daily Show
SPRING
Title: Growing ETCP Certification is Vital for the Health and Safety of the Entertainment Technology Industry
Author: Stephen Dilts, Pyramid Staging
SUMMER
Title: Three Tiers of Safety
Author: Mark Witteveen, Project Manager of Chicago Flyhouse

FALL
Title: The ETCP Council leads with Laser-Focused Vision
Author: Todd Spencer, Head of Global Rigging Services, PSAV
2014
WINTER
Title:
Theatrical Set Building from an ETCP Perspective
Author:
Matthew Hughes - Proof Productions
SPRING
Title: Certification Strengthens Our Industry - No Matter What Gender
Author: Beaner Sheridan - IATSE Local 7
SUMMER
Title: Restoration of the Foxwoods / Lyric Theatre Stars ETCP Certified Riggers
Author: Steven Ehrenberg - President, Eberg Stage Solutions
FALL
Title: We Care—and So Should You
Author: Meredith Moseley-Bennett - ETCP Certification Manager

2013
<
WINTER
Title: Local One Commits to Supporting Their Members in Becoming ETCP Certified
Author: Paul F. Dean, Jr., Chairman of the Board of Trustees and Training Coordinator - Local One

SPRING
Title: Local Two Emphasizes Ongoing Training, Safety, and ETCP Certification for its Members
Author: Craig Carlson, Business Manager - Local Two

SUMMER
Title: Peace of Mind from an ETCP Certified Crew
Author: Matt Scheidt - Mainstage Theatrical Supply, Inc.


Title: Raising the Bar with ETCP
Author: David Rosenberg - iWeiss

2012
WINTER
Title:
ETCP Rigging Renewal Credits: Stay Up-to-Date with Modern Technology
Author:
Dave Rossi, Operations Manager-Daktronics Rigging Group
SPRING
Title: Practice Problem Perplexes Aplenty
Author: Richard Cadena, Technical Editor of Protocol and Lighting&Sound America as Owner/Trainer Academy of Production Technology
SUMMER
Title: ETCP-Building a Better Industry Through Knowledge
Author: David Fox, Training and Documentation Specialist-Electronic Theatre Controls, Inc.
FALL
Title: Keeping Safety at the Forefront of our Events
Author: Elise Bechard, Vice President of Operations and Client Relations-JCALPRO, Inc.
2011
WINTER
Title: Do you Trust Your Rigging Safety Program?
Author: Ed Barnes, Vice President of Operations, Washington State Convention Center

SPRING
Title: ETCP Certification for Faculty Takes you Beyond Teaching
Author: Eric Rouse, Assistant Professor of Theatre Design and Technology, Penn State University

SUMMER
Title: ETCP Certification Increasing Demand for Technical Training
Author: Meredith Moseley-Bennett, ETCP Certification Manager

FALL
Title: ETCP Certification is an Investment that Pays Long-term Benefits
Author: Ray Janson, Partner-Janson Industries
2010
WINTER
Title: ETCP Approaches 1,000 Certifications - FAQ About ETCP Exams Explained
Author: Meredith Moseley-Bennett, ETCP Certification Manager

SPRING
Title: Ignorance is Not Bliss – The ETCP Exam Confirms You are Solid on the Facts and Formulae
Author: Mark Fink, Systems Integrator for Barbizon Capitol, Inc.

SUMMER
Title: Two Views from the Air - ZFX and ETCP
Authors: Stu Cox and Sandra Harned, Flying Directors at ZFX, Inc.

FALL
Title: Experience, Education, and Certification: Will the Real Trump Card, Please Stand Up?
Author: Richard Cadena, ETCP Recognized Trainer and Author of Electricity for the Entertainment Electrician & Technician
2009
WINTER
Title: More Certified Technicians, More Venues, More Recognized Employers and Labor Providers - ETCP is on a Roll!
Author: Meredith Moseley-Bennett, ETCP Certification Manager

SPRING
Title: Does ETCP Certification Make Sense for Installers?
Author: Shannon Johnson, Facility Programming Consultant, Peerbolte Creative

SUMMER
Title: Marketing Your Company is Easy with ETCP Certification – The Commitment to Safety Provides Instant Credibility on the Job
Author: James "Tut" Tutorow, Vice President On Location Lighting Systems

FALL
Title: What Have we Done? – ETCP and the Coming of Age of Entertainment Technicians
Authors: ETCP Council Members, Eddie Raymond, Vice President of IATSE Local 16 in San Francisco and Kent Jorgensen, Safety and Training Representative for IATSE Local 80

2008
WINTER
Title: Because an ETCP Employer Said So / Full Commitment to Certification Builds your Team and Your Credibility
Authors: Kacey Coffin Fisher, President Fisher Theatrical and George Studnicky, III, President of Creative Stage Lighting Co., Inc.

SPRING
Title: I am Certified - History of an ETCP (female) Certified Technician
Author: Natti Pierce-Thomson, President and Senior Lighting Designer for North American Theatre Technology Incorporated

SUMMER
Title: There's No Such Thing as "Too Safe"
Author: Tyler Smith, Project Manager and Safety Director for InterAmerica Stage, Inc.

FALL
Title: Let's All Get Serious About Safety. Let's All Get Certified. Now.
Author: Brad Kagel, President of National Production Services Inc.
2007
WINTER
Title: Hey! I Can Pass This Thing!
Author: Katie Geraghty, Certification Director

SPRING
Title: News From Your New ETCP Coordinator
Author: Meredith Moseley-Bennett, ETCP Certification Manager

SUMMER
Title: Certification is More Than Just a Passing Grade
Author: Don Earl, Founder of Earl Girls, Inc.

FALL
Title: Bring ETCP Exams to Your Door
Author: Meredith Moseley-Bennett, Certification Manager
2006
WINTER
Title: ETCP Certified Riggers are Here!
Author: Katie Geraghty, Certification Director

SPRING
Title: Next Up: Entertainment Electrician Certification Exam
Author: Katie Geraghty, Certification Director

SUMMER
Title: ETCP Moving Forward
Author: Katie Geraghty, Certification Director

FALL
Title: What it Takes to Create a Certification Program
Author: Katie Geraghty, Certification Director

2005
WINTER
Title: ETCP Announces Subject Matter Experts
Author: Katie Geraghty, Certification Director

SPRING
Title: Sharpen Your Pencils: The ETCP Rigging Certification Exams are Ready. Are You?
Author: Katie Geraghty, Certification Director

SUMMER
Title: First ETCP Rigging Examinations Scheduled November 12th
Author: Katie Geraghty, Certification Director

FALL
Title: Rigging Candidates Line Up for First Examinations
Author: Katie Geraghty, Certification Director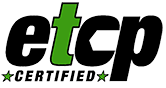 ABOUT
About ETCP
Code of Ethics
Council Members
FAQ
Staff Listing
Test Developers
ETCP SPONSORS
Sponsors
Media Partners
ETCP NEWS
ETCP News
ETCP News Archive
> Protocol Articles

RSS Feed