ETCP Press
October 10, 2023 - NATEAC 2024 Opens Request for Proposals
The North American Theatre Engineering and Architecture Conference (NATEAC) is a quadrennial event with sessions on a variety of topics relevant to the design and construction of performance venues. The producer of the event, the Entertainment Services and Technology Association (ESTA), is now accepting proposals for sessions for the July 2024 conference, which will be held in Brooklyn, New York.
August 30, 2023 - Midwest Rigging Intensive Trainers Receive ESTA's Frank Stewart Volunteer of the Year Award08
ESTA is pleased to announce a team of nine ETCP Recognized Trainers as the recipients of the Frank Stewart Volunteer of the Year Award for service in both 2022 and 2023: Bennett Brian (Reed Rigging, Inc.), Tyler DeLong (DeLong Rigging Solutions), Brent "Mickey" Henry (ETC), Shane Kelly (DePaul University), Rebecca Knipfer (ETC), Ed Leahy (The Chicago Flyhouse, Inc.), Verda Beth Martell (DLR Group), Tracy Nunnally (Vertigo), and Patrick Stewart (ETC), whose father is the award's namesake. These trainers tirelessly volunteered around their busy schedules to plan, design, and deliver a curriculum for the Midwest Rigging Intensive (MRI) two years in a row.
February 21, 2023 - ETCP News & Updates
ETCP Recognized Employer, Contractor, and Labor Provider Best Practices Agreements
ETCP Recognized Employers, Contractors, and Labor Provider Best Practices Agreements must be renewed annually. If your company has not yet renewed its Best Practices Agreement for this year, the forms can be found at this link: https://etcp.esta.org/findrecognized/becomerecognized.html.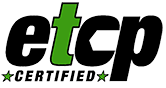 ABOUT
About ETCP
Code of Ethics
Council Members
FAQ
Staff Listing
Test Developers
ETCP SPONSORS
Sponsors
Media Partners
ETCP NEWS
> ETCP Press
ETCP Press Archive
Protocol Articles

RSS Feed