ETCP News
October 01, 2019 - Behind the Scenes Requests Industry Participation in Online Survey as First Step in Developing a Mental Health and Suicide Prevention Initiative
Behind the Scenes, in response to concerns about the rising number of suicides and the prevalence of alcohol/substance misuse within the entertainment industry, is beginning work on a Mental Health and Suicide Prevention initiative and wants to get a sense of how many people in the industry are experiencing anxiety, depression, thoughts of suicide, problems with alcohol/substance misuse, or reactions to traumatic events.
August 19, 2019 - ETCP Handbook Cover Contest
The Entertainment Technician Certification Program (ETCP) will be celebrating its 15th year in 2020, and to celebrate, we would like to launch a new cover for each handbook. We are asking ETCP Certified Technicians to show us how they see art in what they do every day. We encourage artistic interpretation and are looking for something fresh. Only digital Images may be submitted: photos, graphics, illustrations, renderings and other artistic mediums will be considered. Only ETCP Certified Technicians may enter the contest.
August 05, 2019 - New Rigging Programs Added to ETCP Recognized Training for Renewal Credits
American Crane & Safety, LLC and Reliable Design Services were approved this month to become ETCP Recognized Training Programs. The courses that participate in ETCP' Recognized Training Program present a great opportunity for ETCP Technicians to get a bulk of their education credits in one place, as these training opportunities count 1 point per hour of attendance.
May 22, 2019 - Motion Laboratories Becomes First ETCP Recognized Provider of Portable Power Distribution Renewal Credits
The Entertainment Technician Certification Program (ETCP) is excited to announce the addition of Motion Laboratories as a Recognized Training Provider for ETCP Renewal Credits. This is the first listing that specifically addresses the area of portable power distribution.
February 12, 2019 - ETCP Paper and Pencil Exam in Conjunction with USITT Jay Glerum Masterclasses
The Entertainment Technician Certification Program (ETCP) is pleased to announce that ETCP Paper and Pencil rigging examinations will be offered in conjunction with the Jay O. Glerum Rigging Masterclasses in San Diego, CA on the morning of April 3, 2019.
December 15, 2018 - ETCP Testing Company Gives Practice Exam Candidates More Time to Get it Right
Beginning December 15, 2018, candidates who purchase the ETCP Practice Examinations will now have a 90-day window to complete the Web-based exams, rather than the previous one of 30 days. There is no application process with the practice exams and any interested candidates will be able to take the exams privately at home, at the office, or on the road whenever it is most convenient for them.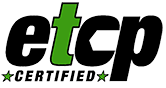 ABOUT
About ETCP
Code of Ethics
Council Members
FAQ
Staff Listing
Test Developers
ETCP SPONSORS
Sponsors
Media Partners
ETCP NEWS
> ETCP News
ETCP News Archive
Protocol Articles

RSS Feed