ETCP News
May 22, 2019 - Motion Laboratories Becomes First ETCP Recognized Provider of Portable Power Distribution Renewal Credits
The Entertainment Technician Certification Program (ETCP) is excited to announce the addition of Motion Laboratories as a Recognized Training Provider for ETCP Renewal Credits. This is the first listing that specifically addresses the area of portable power distribution.
February 12, 2019 - ETCP Paper and Pencil Exam in Conjunction with USITT Jay Glerum Masterclasses
The Entertainment Technician Certification Program (ETCP) is pleased to announce that ETCP Paper and Pencil rigging examinations will be offered in conjunction with the Jay O. Glerum Rigging Masterclasses in San Diego, CA on the morning of April 3, 2019.
December 15, 2018 - ETCP Testing Company Gives Practice Exam Candidates More Time to Get it Right
Beginning December 15, 2018, candidates who purchase the ETCP Practice Examinations will now have a 90-day window to complete the Web-based exams, rather than the previous one of 30 days. There is no application process with the practice exams and any interested candidates will be able to take the exams privately at home, at the office, or on the road whenever it is most convenient for them.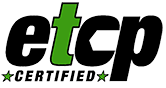 ETCP NEWS
> ETCP News
ETCP News Archive

RSS Feed