ETCP Press
February 21, 2023 - ETCP News & Updates
ETCP Recognized Employer, Contractor, and Labor Provider Best Practices Agreements
ETCP Recognized Employers, Contractors, and Labor Provider Best Practices Agreements must be renewed annually. If your company has not yet renewed its Best Practices Agreement for this year, the forms can be found at this link: https://etcp.esta.org/findrecognized/becomerecognized.html.
June 15, 2022 - ESTA Welcomes Christina Smith as New ETCP Program Manager
After a two-year search, ESTA is proud to announce that Christina Smith is the new Program Manager for the Entertainment Technician Certification Program (ETCP). She will be taking over for Interim Manager Beverly Inglesby, whose tremendous work helped keep the program running smoothly through the pandemic.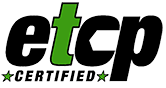 ABOUT
About ETCP
Code of Ethics
Council Members
FAQ
Staff Listing
Test Developers
ETCP SPONSORS
Sponsors
Media Partners
ETCP NEWS
> ETCP Press
ETCP Press Archive
Protocol Articles

RSS Feed