ETCP Press
ETCP RIGGING EXAM INFORMATION NOW AVAILABLE
2005-04-05
The Entertainment Technician Certification Program (ETCP) Council is pleased to announce the rigging candidate handbook and application forms are now available. The first ETCP rigging examinations (arena and theatre) will be held in November 2005 in conjunction with the ETS-LDI tradeshow. Candidate information, including eligibility requirements and application forms, are available on the ETCP website at http://etcp.esta.org/candidateinfo/riggingexams.html.
All experienced riggers are invited to take the industry's first rigging certification exam. The rigging certifications are designed for highly experienced riggers (rigging supervisors, high steel riggers, flypersons, etc). Qualified riggers can apply for either one or both exams. Individuals must meet eligibility requirements to apply for the exam(s).
Candidates who pass the examinations in November 2005 will be the first ETCP Certified Riggers in North America and will be acknowledged as the only members of the "Class of 2005" on the ETCP website.
The ETCP rigging examinations are designed to test a well-defined body of knowledge representative of current professional rigging practices. Successful completion of a certification examination verifies broad-based knowledge in rigging. Information regarding the content of the examinations is available in the candidate handbook. The content for the examinations is based on a job analysis performed by twenty-four subject matter experts under the guidance of a professional psychometric firm, along with input from hundreds of riggers across North America. For a list of these well-respected, veteran riggers please visit the ETCP website at www.etcp.esta.org/TestDevelopers/smes.html.
If you would like the examination information and application forms mailed or emailed to you, please contact Katie Geraghty, ETCP Certification Director, at 212-244-1505 or kgeraghty@esta.org with your contact information.
The ETCP Council members are key leaders drawn from entertainment business, labor, facilities, associations, and academia representing the diversity of the entertainment industry. Membership includes AMPTP, CITT, CCE, ESTA, IAAM, IATSE, InfoComm/ICIA, The League, PRG, TEA, and USITT.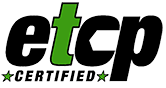 ABOUT
About ETCP
Code of Ethics
Council Members
FAQ
Staff Listing
Test Developers
ETCP SPONSORS
Sponsors
Media Partners
ETCP NEWS
ETCP Press
ETCP Press Archive
Protocol Articles

RSS Feed