ETCP Press
ETCP ANNOUNCES ELECTRICAL SUBJECT MATTER EXPERTS
2005-10-27
The Entertainment Technician Certification Program Council announces the appointment of Electrical Subject Matter Experts (SMEs). These individuals, all highly respected in their field, have agreed to volunteer considerable time to the development of the industryís first electrical certification. Selected for their breadth and depth of knowledge, the SMEs will work closely with the Councilís selected psychometric services provider, Applied Measurement Professionals (AMP), to develop the examinations.
The SMEs are: Rick Baxter, Eric Bouchard, Jeanette Farmer, Ian Foulds, David Hatch, John Huntington, Tony Giovannetti, Dave Loftin, Jim Maloney, Alan Rowe, Nancy Shaw, and Ken Vannice.
The SMEsí first task is to develop a job task analysis survey which will be sent to hundreds of entertainment electricians in the U.S. and Canada. The results of this survey will be used to determine the content areas of the examination. The next step in the test development process will be to write the examination questions, which will take place over a series of meetings to be held through the first half of 2006.
Call for Entertainment Electricians to Participate in Survey Job analysis is the foundation upon which to build a viable and rigorous certification examination. The job analysis will focus on analyzing electrical tasks based on importance, time spent and consequence of error.
A survey regarding this job analysis will be developed this fall by the appointed SMEs with the help of AMP. The survey will be administered by email in December 2005. ETCP needs your help to ensure that the examination reflects the job requirements. Your judgments will assist the SMEs in developing the examination specifications. If you are an experienced entertainment electrician and are interested in participating, please email Katie Geraghty, ETCP Certification Director at kgeraghty@esta.org with your:
1. Name
2. Email Address (if you do not have an email address but would like to participate please send your mailing address to: 875 Sixth Avenue, Suite 1005, New York, NY 10001)
The first electrical examination will be held at the 2006 LDI tradeshow in Las Vegas, NV. Candidate handbooks and applications for the electrical examination will be available in March 2006.
Under the auspices of the Entertainment Services and Technology Association (ESTA), ETCP is being developed with the following organizations: AMPTP, CITT, CCE, IATSE, IAAM, InfoComm/ICIA, The League of American Theatres and Producers, PRG, TEA, and USITT.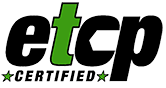 ABOUT
About ETCP
Code of Ethics
Council Members
FAQ
Staff Listing
Test Developers
ETCP SPONSORS
Sponsors
Media Partners
ETCP NEWS
ETCP Press
ETCP Press Archive
Protocol Articles

RSS Feed