ETCP Press
Find an ETCP Certified Rigger Online
2006-04-18
The listing of ETCP Certified Riggers is now available online at http://etcp.esta.org/cert_technicians/certificant_search.php. These individuals have passed the rigorous examination in arena and/or theatre rigging. By using the search map or form, you can easily find an ETCP Certificant in your area. Direct contact information is available for many of these individuals.
Employers have already begun using the website when seeking qualified personnel. Recent surveys show that employers want an objective tool that helps them assess riggers' skills. ETCP Certification provides that tool, helping employers immediately identify riggers with proven capabilities. ETCP helps the riggers themselves by giving them a credential – ETCP Certified – that unmistakably says, "I know what I am doing."
The certification examinations are now available at centers throughout the U.S. and Canada for qualified riggers. View these testing sites online, as well as obtain candidate information, including eligibility requirements, application forms, and deadlines, at http://etcp.esta.org.
If you would like the examination information and application forms mailed to you, please contact Katie Geraghty, ETCP Certification Director, at 212-244-1505 or kgeraghty@esta.org with your contact information.
The rigging certifications are designed for highly experienced riggers (rigging supervisors, high steel riggers, flypersons, etc). Qualified riggers can apply for either one or both exams. Individuals must meet eligibility requirements to apply for the exam(s).
The ETCP Council members are key leaders drawn from entertainment business, labor, facilities, associations, and academia representing the diversity of the entertainment industry. Membership includes AMPTP, CITT, ESTA, IAAM, IATSE, InfoComm, The League, Live Nation, PRG, TEA, and USITT.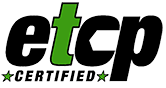 ABOUT
About ETCP
Code of Ethics
Council Members
FAQ
Staff Listing
Test Developers
ETCP SPONSORS
Sponsors
Media Partners
ETCP NEWS
ETCP Press
ETCP Press Archive
Protocol Articles

RSS Feed