ETCP Press
COMPUTER-BASED TESTING QUARTERLY APPLICATION DEADLINE LIFTED FOR RIGGING AND ELECTRICAL EXAMS
2007-03-26
ETCP is pleased to announce, due to new arrangements with our testing company, that the quarterly deadlines for submitting applications for computer-based exams have been eliminated.
Once an application has been submitted, it will be processed within just a few weeks and the candidate can make arrangments to take the exam at one of the 190 testing centers around the U.S. and Candada. If a candidate needs to take the test immediately, the application can be processed in as little as four business days for an additional charge.
If you have any questions or need further information, such as Electrical Handbooks, Rigging Handbooks, application materials, or Test-Taking Tips, these items can be mailed to you. You may request information by calling Meredith Moseley-Bennett at 212.244.1505 or by emailing certification@esta.org. All information is also available online at: http://etcp.esta.org/.
The ETCP Council members are key leaders drawn from entertainment business, labor, facilities, associations, and academia representing the diversity of the entertainment industry. Membership includes AMPTP, CITT, ESTA, IAAM, IATSE, InfoComm, The League, Live Nation, PRG, TEA, and USITT. ETCP is an ESTA initiative created to promote industry safety.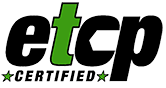 ABOUT
About ETCP
Code of Ethics
Council Members
FAQ
Staff Listing
Test Developers
ETCP SPONSORS
Sponsors
Media Partners
ETCP NEWS
ETCP Press
ETCP Press Archive
Protocol Articles

RSS Feed