ETCP Press
Major Industry Employers Begin Mandating ETCP Certification
2007-05-31
Two major industry employers, Live Nation and Global Spectrum, have announced the signing of collective bargaining agreements with the International Alliance of Theatrical Stage Employees (IATSE) which phase in a requirement for ETCP Certified Technicians in a variety of venues operated by the two companies.
The new agreements call for IATSE to provide the venues with an ETCP Certified Rigger at any rigging call and an ETCP Certified head Electrician. Most contracts call for a one to three year phase-in of the requirement. Some of the first venues to implement the agreements are Live Nation theatres in Baltimore, Indianapolis, Minneapolis and Philadelphia. Live Nation amphitheatres in Charlotte, Hartford, Holmdel (NJ), Kansas City, Tampa, Washington, DC and West Palm Beach have also added certification language to IATSE agreements.
Christopher Brockmeyer, Director of Labor Relations at Live Nation, commented "ETCP certification for our riggers and electricians will help insure that we continue to employ the highest skilled labor on our shows and maintain the safest work environment in our venues. Live Nation is proud to be a leader in establishing an industry standard for these skilled employees."
Live Nation and IATSE have been strong supporters of the Entertainment Technician Certification Program since the beginning. Both organizations hold seats on the ETCP Council and have been actively involved in the development of the program. Both organizations are also major financial contributors to ETCP.
President Thomas C. Short of IATSE said, "The ETCP is an invaluable program that gives our working members certification and recognition for the highly technical skills they need and use every day. The IA has taken the initiative in seeing that the health and safety of our members and that of their colleagues, is of utmost importance to us. The agreements with Live Nation and Global Spectrum honor that initiative and we look forward to other employers following their example."
The existing agreements, negotiated between Live Nation and Global Spectrum and the International, are expected to serve as models for future negotiations between the two employers and individual Locals regarding the requirements for ETCP Certified Technicians. Many IATSE Locals around the country have been actively encouraging their members to become ETCP Certified in anticipation of contractual requirements.
For more information about ETCP visit http://etcp.esta.org, email certification@esta.org, or call 212-244-1505.
The ETCP Council members are key leaders drawn from entertainment business, labor, facilities, associations, and academia representing the diversity of the entertainment industry. Membership includes AMPTP, CITT, ESTA, IAAM, IATSE, InfoComm, The League, Live Nation, PRG, TEA, and USITT. ETCP is an ESTA initiative created to promote industry safety.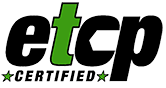 ABOUT
About ETCP
Code of Ethics
Council Members
FAQ
Staff Listing
Test Developers
ETCP SPONSORS
Sponsors
Media Partners
ETCP NEWS
ETCP Press
ETCP Press Archive
Protocol Articles

RSS Feed