ETCP Press
LOS ANGELES CONVENTION CENTER IS FIRST MAJOR WEST COAST FACILITY TO REQUIRE ETCP CERTIFICATION FOR ALL RIGGING SUPERVISORS
2008-01-21
Los Angeles, CA - January 18th, 2008 - The Los Angeles Convention Center (LACC) is the first major west coast convention center to take the lead on requiring all its rigging supervisor hires to be certified under Entertainment Technician Certification Program (ETCP). In an effort to enhance client and patron safety while meeting the challenges of ever increasing technical demands, LACC has revised its criteria that companies must meet in order to qualify for placement on their list of approved rigging contractors. One of the qualifications is that all rigging supervisors and managers must be ETCP Certified. New vendors must meet these qualifications immediately to be considered for placement, while previously approved vendors have until the end of 2008 to certify their lead riggers.
Thomas Fields, Building Superintendent of Show Operations at the Los Angeles Convention Center, initiated the revision to the center's criteria stating, "We consider public safety to be paramount. We take necessary steps to assure we have prudent procedures and safeguards in place to protect the public." Mr. Fields further added that, "proper knowledge of rigging principals, components, equipment, related engineering, and the application thereof is vital to assuring public safety. With the creation of the ETCP credential, we now have a means of measuring the knowledge of riggers in our industry."
There are three ways employees can be tested to receive certification. The exams are available for computer based-testing and a candidate can make arrangements to take the exam at one of 190 testing centers around the U.S and in Canada. If a company has as few as ten candidates interested in taking the exam, ETCP can arrange for on-site test administration. The examinations will also be administered in conjunction with the USITT Conference & Stage Expo in March 2008 in Houston, TX. Those interested in taking the exams at USITT must submit their application by February 15, 2008.
If companies are looking to hire a competent rigger or entertainment electrician who is dedicated to safety on the job, the list of Certified Entertainment Technicians on the ETCP website is searchable by name, city, or certification type. Not only did these technicians pass a rigorous assessment, they also signed an agreement to abide by the ETCP Certified Entertainment Technician Code of Ethics and Professional Conduct.
About the Los Angeles Convention Center (LACC)
The Los Angeles Convention Center (LACC) is one of the most technologically advanced convention and exhibition centers in the world. LACC attracts over 2.5 million annual visitors and is renowned internationally as a prime site for conventions, trade shows and exhibitions. With its towering emerald architectural design, the LACC is a well recognized Los Angeles landmark. An integral economic component to the Southern California area, total sales from client secondary spending tops $1.1 billion annually, generating and sustaining over 12,000 local jobs. LACC is a model environmental-friendly facility. Its solar panels are capable of meeting the electricity needs of an estimated 100 homes, and it's recycling, energy efficiency, and water conservation programs help to conserve the environment. LACC is enrolled in the Los Angeles Department of Water and Power's (LADWP) Green Power Program (environmentally-friendly renewable energy resources such as hydroelectric, geothermal, solar, biomass, and wind energy) at a level of 20% of the facilities consumption. The Los Angeles Convention Center is registered with the United States Green Building Council (USGBC) as a member of the Los Angeles and National Chapter. The Los Angeles Convention Center is currently undergoing a program to obtain its LEED-EB certification. LACC is also a proud recipient of prestigious industry awards including several Planner's Choice Awards presented by Meeting News magazine, multiple Prime Site Awards from the Facilities and Destinations magazine, and recognition for model emergency care programs. For more information about the Los Angeles Convention Center, please call (213) 741-1151, ext. 5319 or visit http://www.lacclink.com/.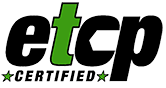 ABOUT
About ETCP
Code of Ethics
Council Members
FAQ
Staff Listing
Test Developers
ETCP SPONSORS
Sponsors
Media Partners
ETCP NEWS
ETCP Press
ETCP Press Archive
Protocol Articles

RSS Feed