ETCP Press
TWENTY-EIGHT ETCP RIGGING CERTIFICATIONS AWARDED IN VANCOUVER
2007-02-25
The ETCP Council is pleased to announce that twenty-six arena rigging and two theatre rigging certifications were recently awarded to riggers working in British Columbia and Alberta. Safety & Health in Arts Production and Entertainment (SHAPE), a B.C. based arts health and safety service organization, teamed up with Riggit, a provider of custom rigging in Western Canada, and IATSE to offer the examinations in Vancouver on January 21st.
Dawn Brennan, General Manager of SHAPE, identified training and certification as cornerstones for health and safety. "An ETCP certification is a demonstration of a worker's ability and knowledge and inspires confidence in the workplace."
Members from IATSE Locals 118, 168, 210, and 891 were among those who sat for the exams. "This is a further example of our commitment to training and safety," remarked IATSE International Representative Barney Haines who helped organize a five-day training course prior to the exam administration. "The IATSE is planning to conduct similar training courses in cities across the country to assist our members in further enhancing their skills and in maintaining their position as leaders in the entertainment industry. In the end, both our members and employers are thrilled that there is now an industry-recognized standard."
Paper and pencil administrations of any of the ETCP exams may be arranged locally for groups of 10 or more. Computer-based exams are available at 190 testing centers across the Unites States and Canada. Candidate information, including eligibility requirements and application forms, are available online at http://etcp.esta.org.
If you would like the examination information and application forms mailed or emailed to you, or would like to schedule a local paper and pencil administration, please contact Meredith Moseley-Bennett, ETCP Certification Coordinator, at 212-244-1505 or certification@esta.org.
The certified riggers are now listed on the ETCP website at http://etcp.esta.org. Each can be identified on the jobsite by requesting to see their ETCP ID card that includes their picture, date of certification and, most importantly, area(s) of specialty.
The ETCP Council members are key leaders drawn from entertainment business, labor, facilities, associations, and academia representing the diversity of the entertainment industry. Membership includes AMPTP, BASE Entertainment, Cirque du Soleil/MGM MIRAGE, CITT, ESTA, IAAM, IATSE, InfoComm, The League, Live Nation, PRG, TEA, and USITT. ETCP is an ESTA initiative created to promote industry safety.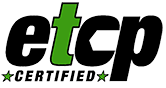 ABOUT
About ETCP
Code of Ethics
Council Members
FAQ
Staff Listing
Test Developers
ETCP SPONSORS
Sponsors
Media Partners
ETCP NEWS
ETCP Press
ETCP Press Archive
Protocol Articles

RSS Feed