ETCP Press
NEW ETCP COMPUTER-BASED TESTING AVAILABLE IN CANADA
2009-05-13
ETCP is pleased to announce that there is a new testing center in Canada. All three exams are now available for computer-based testing at Robertson College, 265 Notre Dame Avenue, Winnipeg, MB.
Individuals must meet eligibility requirements to take the exams and applications must be turned in to the ETCP office for approval. Once a candidate is approved, he or she will receive a letter with information on scheduling the exam. The eligibility requirements, candidate handbook and application materials can be found at http://etcp.esta.org, or if you would like to have a copy mailed to you, please contact the Meredith Moseley-Bennett at 212-244-1505 or certification@esta.org with your mailing address.

The ETCP Council members are key leaders drawn from entertainment business, labor, facilities, associations, and academia representing the diversity of the entertainment industry. Membership includes AMPTP, BASE Entertainment, Broadway Across America, The Broadway League, Cirque du Soleil/MGM MIRAGE, CITT, Disney Theatrical Productions, ESTA, IAAM, IATSE, InfoComm, The League, Live Nation, PRG, NBC Universal, SHAPE, TEA, and USITT. ETCP is an ESTA initiative created to promote industry safety.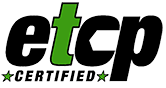 ABOUT
About ETCP
Code of Ethics
Council Members
FAQ
Staff Listing
Test Developers
ETCP SPONSORS
Sponsors
Media Partners
ETCP NEWS
ETCP Press
ETCP Press Archive
Protocol Articles

RSS Feed