ETCP Press
ETCP CELEBRATES 1000 CERTIFICATIONS
2010-03-10
The Entertainment Technician Certification Program Council is proud to announce that it has issued over 1000 certifications since the program began issuing certifications in November of 2005. These certifications are held by 877 ETCP Certified Technicians. Eleven technicians hold all three certifications: Rigger-Theatre, Rigger-Arena and Entertainment Electrician.
"When the ETCP program was launched, it represented an unprecedented attempt by ESTA to create an inclusive program to improve the safety of our industry. The use of certified technicians can and does provide substantial benefits to audiences, employers and employees. One thousand certifications represents a tremendous milestone for which all program participants can be extremely proud," says ESTA President, Bill Groener. "The success of the program is due to the remarkable commitment by ETCP Council Members, the Subject Matter Experts, ETCP Recognized Employers and Labor Providers, our donors, Media Partners, and most importantly, the certified technicians who have embraced this program as a way of demonstrating their dedication to their craft and to safety."
ETCP Technicians can be identified on the jobsite by requesting to see their ETCP ID card that includes their picture, date of certification and, most importantly, area(s) of specialty. If you are looking to hire someone who is dedicated to safety on the job, those who are ETCP Certified are listed on the website at http://etcp.esta.org/. Not only did these riggers and electricians pass this thorough assessment, they also signed an agreement to abide by the ETCP Certified Entertainment Technician Code of Ethics and Professional Conduct to advance the integrity, honor and prestige of this profession by adherence to the standards set forth.
The ETCP Council members are key leaders drawn from entertainment business, labor, facilities, associations, and academia representing the diversity of the entertainment industry. Membership includes Actsafe, AMPTP, BASE Entertainment, Broadway Across America, The Broadway League, Cirque du Soleil / MGM MIRAGE, CITT, Disney Theatrical Productions, ESTA, IAAM, IATSE, InfoComm, Live Nation, NBC Universal, PRG, TEA, and USITT. ETCP is an ESTA initiative created to promote industry safety.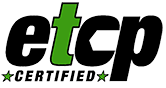 ABOUT
About ETCP
Code of Ethics
Council Members
FAQ
Staff Listing
Test Developers
ETCP SPONSORS
Sponsors
Media Partners
ETCP NEWS
ETCP Press
ETCP Press Archive
Protocol Articles

RSS Feed