ETCP Press
JR Clancy will pay for ETCP recertification of dealers' employees
2010-06-01
When rigging professionals earn ETCP Rigging Certification, it's a demonstration of their expertise in the installation, operation and safety standards for stage rigging. J. R. Clancy, Inc., is working to encourage more rigging professionals to take the ETCP exam and earn their certification-and today, the company is expanding its standing offer to its dealer partners to help their employees maintain their certification.
The nation's leading designer and manufacturer of stage rigging announced today that the company will pay the fee for recertification of dealer employees. J.R. Clancy already provides the first-time testing fee for the employees of its dealer partners.

"We want to be sure that there are no obstacles to our dealers' employees receiving the ETCP certification as rigging professionals," said Bob Theis, chairman of J. R. Clancy, Inc. "Certification is a key factor in maintaining high standards for rigging installation and safety. As employees of our dealer partners come up for certification renewal, we'll work with them to be sure that every qualified rigger can be recertified."

"J.R. Clancy was the very first company to step up and offer its financial support to ETCP when the program was in its formation stage," said Lori Rubenstein, ESTA executive director. "Since then, they have led the industry every step of the way with initiatives to spread the word and support their dealers' employees in becoming certified and now, re-certified. No company has been more proactive in helping ETCP to further its goals of a safer, more knowledgeable industry."

"It is obvious that J.R. Clancy supports the vision of ETCP to establish a benchmark for the skill levels of technicians within the industry," said Meredith Moseley-Bennett, ETCP Certification Manager. "The company's willingness to sponsor candidates and those who need to recertify demonstrates that they are taking a proactive stance to promote safer working environments."

To arrange for payment of the recertification fee, dealers can contact Marilyn at J. R. Clancy at (800) 836-1885.

J. R. Clancy celebrates its 125th year in business in 2010. More information about the company is available at http://www.jrclancy.com/.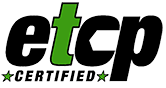 ABOUT
About ETCP
Code of Ethics
Council Members
FAQ
Staff Listing
Test Developers
ETCP SPONSORS
Sponsors
Media Partners
ETCP NEWS
ETCP Press
ETCP Press Archive
Protocol Articles

RSS Feed