ETCP Press
NAVIGATOR AUTOMATION TRAINING THROUGH FISHER TECHNICAL SERVICES BECOMES AN ETCP RECOGNIZED TRAINING PROGRAM
2010-07-20
The Entertainment Technician Certification Program Council is pleased to announce that the Navigator Automation Class at Fisher Technical Services, Inc. (FTSI) has been approved as an ETCP Recognized Training Program. FTSI's four-day course gives students an overall view of the principles of entertainment automation systems and teaches the basics of how to configure and program an automation system using FTSI's "Navigator" hardware and software.
The course is taught by Dana Bartholomew, a Vice President of Fisher Technical Services, Inc., who has over twenty-six years of theater automation experience, including Siegfried and Roy, O, Le Reve, Aladdin, and many others. Dana is one of the foremost experts on both Navigator software and practical installations. Dana is involved with the development of industry standards as a member of ESTA's Rigging Working Group. At Fisher Technical Services, Dana has been integral to the design, manufacturing, and installation of everything from single winch installations to large scale, 100+ axis spectaculars.
The course is designed for practicing professionals as well as the novice looking to develop a greater understanding of automation. With a maximum class size of eight students, the course covers mechanical system components, network architecture, safety systems and considerations, motion control techniques, system programming tools and instructions, console operation, and basic troubleshooting, with examples and exercises provided for all students. Richard Cadena wrote, "It was an incredible experience and it made me realize just how powerful automation can be. I think automation is still in its infancy and it will be one of the fastest growing areas of the industry for a long time to come."
Upcoming courses will be held at FTSI's 60,000 sq. ft. research, design, and fabrication facility in Las Vegas, Nevada. The classes with space still available in 2010 are August 23-26 and December 13-16. Additionally, this fall LDI will incorporate automation training in the LDInstitute for the first time in its history. For more information on these courses, please visit: http://www.fishertechnical.com/.
You can gain more exposure for your training program by applying to have your course ETCP Recognized. Approval is granted based on submission of course curriculum, instructor bios and other training materials. Approved programs are listed on the ETCP website with a dedicated page including logo, contact information and course dates. Learn more about ETCP Recognized Training by visiting: http://etcp.esta.org/cert_recognized/training.htm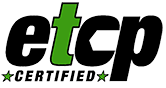 ABOUT
About ETCP
Code of Ethics
Council Members
FAQ
Staff Listing
Test Developers
ETCP SPONSORS
Sponsors
Media Partners
ETCP NEWS
ETCP Press
ETCP Press Archive
Protocol Articles

RSS Feed