ETCP Press
ETCP WELCOMES GRAVITEC SYSTEMS, INC. AND THE PRG INSTITUTE TO RECOGNIZED TRAINING PROGRAM LIST
2012-04-20
ETCP is pleased to announce that Gravitec Systems, Inc. and Production Resource Group (PRG) have joined the ranks of elite training opportunities by becoming ETCP Recognized Training Programs. ETCP Certified Technicians who attend these courses will receive full renewal credits.
When it comes to protecting workers at height, Gravitec knows the value of education. Curriculum is designed to prepare workers and empower them to use available equipment and implement systems to protect themselves. Fall protection training provides riggers with the knowledge they need to perform their job safely. Gravitec offers a full range of fall protection and rescue courses, from basic fall hazard awareness to advanced climbing and rescue techniques, designed to address safety issues commonly faced by riggers and entertainment technicians in the field.

Participants enrolled in Gravitec courses will learn how to properly identify, mitigate and control fall hazards in the workplace. The Recognized courses that are available for renewal credits are Authorized Fall Protection Person, Competent Fall Protection Person, Managed Fall Protection Program Administrator, and Qualified Fall Protection Person. To find out more about these courses and for registration information, please visit: http://etcp.plasa.org/cert_recognized/training_programs/rigging_Gravitec.htm

PRG, the world's leading supplier of entertainment and event technology will host its PRG Institute May 16th through May 18th in Secaucus, NJ. The Institute offers introductory training on the VX76® lighting control consoles, Mbox Extreme® media server, Best Boy® and Bad Boy® Luminaires, and Series 400® Power and Data Distribution System.

This is an ideal opportunity for ETCP Certified Electricians as well as other users to expand their skills and become familiar with PRG's proprietary products, which have become the choice of top professionals in theatre, film, television, concert touring and global special events. Attendees may register for the three-day session or for individual product training. For more information and a session schedule, please visit http://etcp.plasa.org/cert_recognized/training_programs/electrical_PRG.htm

For more information on having your course ETCP Recognized or becoming an ETCP Recognized Trainer, please contact Meredith Moseley-Bennett at etcp@plasa.org. Interested in becoming ETCP Certified? Candidate information, including eligibility requirements and applications, is available on the ETCP website http://etcp.plasa.org/.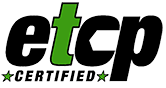 ABOUT
About ETCP
Code of Ethics
Council Members
FAQ
Staff Listing
Test Developers
ETCP SPONSORS
Sponsors
Media Partners
ETCP NEWS
ETCP Press
ETCP Press Archive
Protocol Articles

RSS Feed