ETCP Press
ADMINISTRATION FEE WAIVED FOR ORGANIZATIONS OFFERING ETCP PAPER AND PENCIL EXAMS IN THE MONTH OF JULY
2012-04-11
In order to keep the ETCP examinations fresh and current, the Subject Matter Experts have written new questions for the Arena Rigging examination. ETCP is set to launch these questions July 1, 2012. To gather the statistical data necessary to properly score the exam, it is essential that as many Arena Riggers as possible are tested during the month of July. To further this initiative, the test administration fee of $675 for groups of ten or more will be waived for the month of July. Candidate application fees will still apply and score reports will be delivered in 6-8 weeks.
The new test form for Theatre Rigging will be available late summer or early fall and the offer to waive the administration fee for that exam will be made to organizations at that time.
ETCP will send a proctor to you, but space must be provided by your organization. You can find a list of testing requirements at: http://etcp.plasa.org/onsiteexams.html. Test administration requests must be received 5 weeks prior to the exam date, and candidate application deadlines will be set by the Certification Manager. Candidates must fill out the "Pre-arranged Paper and Pencil Application Form," available on the website.

If your organization is interested in onsite paper and pencil examinations, please contact Meredith Moseley-Bennett, ETCP Certification Manager, at 212-244-1505 or etcp@plasa.org.
Candidate information, including eligibility requirements and applications, is available on the ETCP website http://etcp.plasa.org/.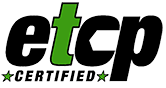 ABOUT
About ETCP
Code of Ethics
Council Members
FAQ
Staff Listing
Test Developers
ETCP SPONSORS
Sponsors
Media Partners
ETCP NEWS
ETCP Press
ETCP Press Archive
Protocol Articles

RSS Feed