ETCP Press
PAPER AND PENCIL EXAMS OFFERED AT USITT 2013 – Milwaukee, WI
2012-11-10
ETCP is a high quality certification program that can further enhance your identity as a competent and knowledgeable leader in your field. Increase your credibility by becoming ETCP Certified!
Having ETCP Certification demonstrates that you are in the top third of the industry professionals in North America; furthermore, to maintain your certification, you must accrue continuing education credits which shows your employer that you are current with industry developments and practices. ETCP has issued almost 1600 certifications! Don't get left behind, submit your application today!
The ETCP Examinations will be given at USITT in Milwaukee, WI. All three ETCP examinations will be given in one session the morning of March 22, 2013. Candidates who wish to take more than one exam should contact ETCP. Members and employees of members of USITT receive a $100 discount on examination fees. Interested applicants must submit their application, along with supporting materials and fee, to the ETCP office no later than March 1, 2013.

Candidate information, including eligibility requirements and applications, is available on the ETCP website (http://etcp.plasa.org/), or if you would like the information mailed, please contact Meredith Moseley-Bennett, ETCP Certification Manager, at 212-244-1505 or etcp@plasa.org.

Can't make it to USITT? ETCP examinations are given daily at over 190 computer based testing centers across the U.S. and Canada. After an application has been received and accepted, candidates will be sent information on how to schedule an examination at a site, date, and time that is most convenient for them.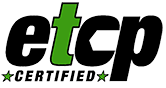 ABOUT
About ETCP
Code of Ethics
Council Members
FAQ
Staff Listing
Test Developers
ETCP SPONSORS
Sponsors
Media Partners
ETCP NEWS
ETCP Press
ETCP Press Archive
Protocol Articles

RSS Feed