ETCP Press
IATSE Training Trust Reimburses Cost of ETCP Certification/Recertification
2013-01-15
ETCP announces the IATSE Entertainment and Exhibition Industries Training Trust Fund has initiated a program to offer reimbursement to those who take and pass any of the three ETCP examinations: rigger - arena, rigger - theatre, and entertainment electrician.
The trustees have approved reimbursement of up to $300 for initial certification costs for up to 100 certifications per calendar year. Once acquired, ETCP certification must be renewed every five years and the Training Trust will reimburse these costs as well. Those interested in reimbursement must submit the student reimbursement request form available at the URL below. The Training Trust will give priority to Locals that have IA Training Trust contribution language in their collective agreements.
Many IATSE Locals will reimburse their members for the full amount of their certification costs, but if a candidate/certified technician's Local is currently unable to provide this service, the IATSE International resource is available.
Candidate information, including handbooks, applications and examination content, can be found at http://etcp.plasa.org. ETCP examinations are given daily at over 190 computer based testing centers across the US and Canada. After an application has been received and accepted, candidates will be sent information on how to schedule an examination at a site, date, and time that is most convenient for them.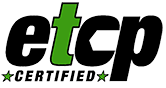 ABOUT
About ETCP
Code of Ethics
Council Members
FAQ
Staff Listing
Test Developers
ETCP SPONSORS
Sponsors
Media Partners
ETCP NEWS
ETCP Press
ETCP Press Archive
Protocol Articles

RSS Feed