ETCP Press
IATSE Local One Certified 30 Additional ETCP Theatre Riggers
2013-07-21
More than 30 International Alliance of Theatrical Stage Employees (IATSE) Local One members passed the Entertainment Technician Certification Program (ETCP) Rigger - Theatre examination in June, which brings the total number of certified riggers in Local One to 85. The New York Local now has more ETCP certified technicians that any other in North America.
"Local One is very excited and proud of our success in the great number of our members who have been certified as ETCP technicians over the last couple of years," said Local One IATSE president James J. Claffey, Jr. "We believe that this achievement demonstrates our commitment to educating and training our members to provide the best service possible to our many employers, as well as enforcing, enhancing, and protecting the traditional jurisdiction of Local One."
President Claffey added, "Congratulations and thanks are also in order to the trustees of Local One's Training, Education, and Technology Fund; brother Paul Dean, Jr.; and the education committee for supporting, funding, and coordinating all of our newly established initiatives and objectives."
"We did it again!" said Paul Dean, Jr. who is the newly elected theatrical business agent of Local One. "Local One is thrilled to add even more ETCP certified theatre riggers to New York's stages. Our members who are ETCP certified also include technicians from Lincoln Center, The Metropolitan Opera House, and various television studios who work throughout Local One's jurisdiction which includes Manhattan, the Bronx, Staten Island, and Westchester and Putnam Counties."
"It is great to see the leadership and resolve demonstrated by Local One in the effort to increase safety in our industry by embracing and promoting ETCP certification. Local One has always been at the forefront of the IATSE and the theatrical industry. This effort helps solidify that position. Congratulations!" stated Patricia White, IATSE International trustee and ETCP council member.
Each of these certified theatre riggers is now listed on the ETCP website at http://etcp.plasa.org. ETCP certified technicians can be identified on the jobsite by requesting to see their ETCP ID card that includes their picture, date of certification, and most importantly, area(s) of specialty.
Candidate information, including eligibility requirements and applications, is available on the ETCP website; if prospective candidates would prefer the information mailed, they can contactMeredith Moseley-Bennett, ETCP certification manager, at 212-244-1505 or etcp@plasa.org.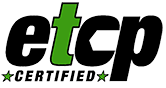 ABOUT
About ETCP
Code of Ethics
Council Members
FAQ
Staff Listing
Test Developers
ETCP SPONSORS
Sponsors
Media Partners
ETCP NEWS
ETCP Press
ETCP Press Archive
Protocol Articles

RSS Feed