ETCP Press
Deadline for ETCP Testing Opportunities at LDI 2016 Approaching
2016-08-31
All four ETCP examinations, including the new Portable Power Distribution Technician Certification (PPDT), will be offered at LDI in Las Vegas, NV on the morning of Saturday, October 22, 2016. Interested applicants must submit their application and fee to the ETCP office no later than September 26, 2016.
Candidate information, including eligibility requirements and applications, is available on the ETCP website at http://etcp.esta.org/ldi2016.html. Questions can be answered by Meredith Moseley-Bennett, ETCP Certification Manager, at 212-244-1505 or etcp@esta.org.
The new ETCP PPDT certification is focused on the large population of industry workers in the roles of technicians, stagehands, portable power set/strike technicians, as well as facility maintenance personnel for a wide variety of venues. This certification targets the top two-thirds of people working with this technology at various types of facilities in the corporate, trade show, outdoor event, theatrical, and motion picture/television segments of the entertainment industry. This certification is a subset of the Entertainment Electrician content outline and does not include questions relating to luminaires, networking, or control systems.
The ETCP Council members are key leaders drawn from entertainment business, labor, facilities, associations, and academia representing the diversity of the entertainment industry. Membership includes ESTA, AMPTP, Cirque du Soleil/MGM MIRAGE, CITT, Disney Theatrical Productions, IAVM, IATSE, InfoComm, The League, Live Nation, PRG, PSAV, TEA, and USITT. ETCP is an ESTA initiative created to promote industry safety.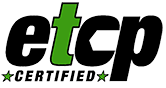 ABOUT
About ETCP
Code of Ethics
Council Members
FAQ
Staff Listing
Test Developers
ETCP SPONSORS
Sponsors
Media Partners
ETCP NEWS
ETCP Press
ETCP Press Archive
Protocol Articles

RSS Feed