ETCP Press
ETCP Class of 2006 Entertainment Electricians Achieve 94% Renewal Rate
2016-11-14
ETCP is pleased to announce an extremely high renewal rate for its original Entertainment Electrician certificants. A decade ago, almost 100 candidates from North America gained their ETCP Certifications at LDI in Las Vegas, NV. This year in October, 94% of the inaugural class of 2006 renewed their certifications as their second 5-year renewal was due to expire.
"We have recently crossed the 10-year mark for the Entertainment Electricians Certification examinations, and we are thrilled that we had such a high recertification-rate this year. This shows the ongoing value that they see in the program. Coupled with the growth of this certification, I believe it is a clear signal that the industry has accepted and uses the certification as a way to raise the bar on safety and efficiency." said Eddie Raymond, President of ESTA.
ETCP currently has issued a total of 2,292 certifications held by 1,942 individuals, and introduced a new Portable Power Distribution Technician (PPDT) certification earlier this year. The ETCP PPDT certification is focused on the large population of industry workers in the roles of technicians, stagehands, portable power set/strike technicians, as well as facility maintenance personnel for a wide variety of venues. This certification targets the top two-thirds of people working with this technology at various types of facilities in the corporate, trade show, outdoor event, theatrical, and motion picture/television segments of the entertainment industry. This certification is a subset of the Entertainment Electrician content outline and does not include questions relating to luminaires, networking, or control systems.
The ETCP Council members are key leaders drawn from entertainment business, labor, facilities, associations, and academia representing the diversity of the entertainment industry. Membership includes ESTA, AMPTP, Cirque du Soleil, CITT, Disney Theatrical Productions, IAVM, IATSE, InfoComm, The League, Live Nation, NBC Universal, PRG, PSAV, TEA, and USITT. ETCP is an ESTA initiative created to promote industry safety.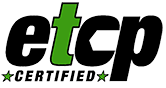 ABOUT
About ETCP
Code of Ethics
Council Members
FAQ
Staff Listing
Test Developers
ETCP SPONSORS
Sponsors
Media Partners
ETCP NEWS
ETCP Press
ETCP Press Archive
Protocol Articles

RSS Feed