ETCP Press
ETCP Testing Company Gives Practice Exam Candidates More Time to Get it Right
2018-12-15
Beginning December 15, 2018, candidates who purchase the ETCP Practice Examinations will now have a 90-day window to complete the Web-based exams, rather than the previous one of 30 days. There is no application process with the practice exams and any interested candidates will be able to take the exams privately at home, at the office, or on the road whenever it is most convenient for them.
To sign up for the exams via the Internet, go to: http://etcp.esta.org/practiceexams and, after a completed $40 purchase, ETCP's testing company (PSI) will email candidates with login information. Candidates may grade the answers as they go or keep the practice exam available to study for the full 90 days. Those who have already purchased one of the practice exams are locked into the current window of 30 days.
"The practice exams were one of the greatest tools I used for preparing for the rigging exam. They helped me understand test layout and what I needed to spend more time on. I would suggest everyone takes one, if not all, of the relevant practice exams, prior to testing on the actual exam," says Gabriel Gula, ETCP Rigger - Arena.
The ETCP Council members are key leaders drawn from entertainment business, labor, facilities, associations, and academia representing the diversity of the entertainment industry. Membership includes ESTA, AMPTP, Cirque du Soleil, CITT, Disney Theatrical Productions, Disney Parks and Recreation, IAVM, IATSE, InfoComm, The League, Live Nation, NBC Universal, PRG, PSAV, TEA, and USITT. ETCP is an ESTA initiative created to promote industry safety.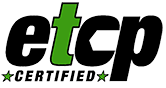 ABOUT
About ETCP
Code of Ethics
Council Members
FAQ
Staff Listing
Test Developers
ETCP SPONSORS
Sponsors
Media Partners
ETCP NEWS
ETCP Press
ETCP Press Archive
Protocol Articles

RSS Feed