ETCP Press
New Rigging Programs Added to ETCP Recognized Training for Renewal Credits
2019-08-05
American Crane & Safety, LLC and Reliable Design Services were approved this month to become ETCP Recognized Training Programs. The courses that participate in ETCP' Recognized Training Program present a great opportunity for ETCP Technicians to get a bulk of their education credits in one place, as these training opportunities count 1 point per hour of attendance.
"I am excited to say that ETCP now has almost 20 Recognized Rigging Training Programs that provide relevant courses for those who need renewal credits. Perhaps the most important thing ETCP has brought about in our industry is a sincere interest in training. Adding these two training opportunities only furthers that mission," said Tim Hansen, ETCP Council Chair.
American Crane & Safety's Entertainment Rigging Courses is designed to provide participants with the ground-rigging basic knowledge of inspecting rigging gear, load control, as well as rigging procedures and techniques used in the entertainment industry through a problem-solving workshop. Scott Weldon, company owner, joined the ranks as ETCP Recognized Trainer this month as well. The Entertainment Rigging course is available online anytime for your convenience. The courses are also taught onsite for those who would like to attend in person.
Reliable Design's Advanced Structures Workshop is co-hosted in Dallas on September 24, 2019 with Clark Reder Engineering. Attendees will learn about a wide range of structures used for outdoor events, including, how to deal with forces on systems and a rare opportunity for hands-on time to experiment with loads and their reactions on systems. Elmer Veith and Jeff Reder, along with special guests, will head up this three-day training that will provide 24 credits to those renewing their ETCP Certification. Those who apply before August 23rd will receive an early bird discount.
The ETCP Council members are key leaders drawn from entertainment business, labor, facilities, associations, and academia representing the diversity of the entertainment industry. Membership includes ESTA, AMPTP, Cirque du Soleil, CITT/ICTS, Disney Parks & Recreation, Disney Theatrical Productions, IAVM, IATSE, The Broadway League, Live Nation, NBC Universal, PRG, PSAV, TEA, and USITT. ETCP is an ESTA initiative created to promote industry safety.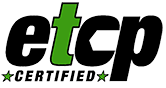 ABOUT
About ETCP
Code of Ethics
Council Members
FAQ
Staff Listing
Test Developers
ETCP SPONSORS
Sponsors
Media Partners
ETCP NEWS
ETCP Press
ETCP Press Archive
Protocol Articles

RSS Feed