ETCP Press
ETCP Info Session at 2022 USITT
2022-02-04
Interested in learning about becoming ETCP Certified?
ETCP Certified technicians represent the top third of the industry! ETCP offers four certifications: Arena – Rigging, Theatre – Rigging, Entertainment Electrician, and Portable Power Distribution Technician.
Come to the ETCP Information Q&A session Thursday, March 3, from 12:30 – 1:30 p.m. in room 326 at the Baltimore Convention Center during the 2022 USITT Conference & Stage Expo. See you there.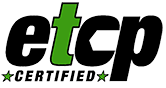 ABOUT
About ETCP
Code of Ethics
Council Members
FAQ
Staff Listing
Test Developers
ETCP SPONSORS
Sponsors
Media Partners
ETCP NEWS
ETCP Press
ETCP Press Archive
Protocol Articles

RSS Feed