ETCP Press
Session Highlights of the Upcoming 2022 New World Rigging Symposium
2022-02-15
Register now for the 2022 New World Rigging Symposium, which will take place online April 5-7, 2022. The symposium will carry nine ETCP education renewal credits for re-certification and the cost is just $99. A few session highlights include:
We've turned the table on the ever popular session featuring some of the industry's top structural engineers; Bill Gorlin, Dan Louis, Miriam Paschetto, and Jeff Reder. Instead of getting to ask your questions, they are going to tell you the things they want you to know. There was so much we've given them two sessions to cover subjects such as ballast, wind speeds, site safety, codes, AHJs and why things don't always stay the same.
Classes taught by Paul Sapsis are always interesting and packed with information. One of the top touring riggers and automation experts, Paul has flown performers in some of the world's major venues. This time, he'll walk attendees through a complicated custom flying system designed for a concert and DVD shoot at the iconic Wembley Stadium – from concept to implementation, install to risk assessment and rescue.
Ever wonder what it's like to tour overseas? What kind of challenges do language barriers, differences in best practices, local rules and regs, and local lingo and experiences present? Hear from seasoned touring pros Jim Digby, Chad Kohler, and Bill Rengstl about the tools and techniques used when rigging abroad.
Thanks to our sponsors for making the 2022 NWRS possible: Electronic Theatre Controls and Sapsis Rigging (Platinum); Kish Rigging, TAIT, Texas Scenic Company, and Wenger|J.R. Clancy (Gold); IA Stage, The Light Source, Reed Rigging, Reliable Design, and Stage Rigging (Silver); CM-ET, DeLong Rigging Solutions, EPS, Geiger Engineers, H&H Specialties, and Tyler Truss (Bronze); Lighting&Sound America and Protocol (Media Partners). There are a limited number of sponsorship opportunities still available. Contact riggingsymposium@esta.org for more information.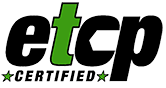 ABOUT
About ETCP
Code of Ethics
Council Members
FAQ
Staff Listing
Test Developers
ETCP SPONSORS
Sponsors
Media Partners
ETCP NEWS
ETCP Press
ETCP Press Archive
Protocol Articles

RSS Feed