ETCP Press
ESTA Welcomes Christina Smith as New ETCP Program Manager
2022-06-15
After a two-year search, ESTA is proud to announce that Christina Smith is the new Program Manager for the Entertainment Technician Certification Program (ETCP). She will be taking over for Interim Manager Beverly Inglesby, whose tremendous work helped keep the program running smoothly through the pandemic.
Like many in the community, Smith started out as a designer and technician for theatre and live events. After many years in the industry, she moved into arts management and educational coordination. In 2016, she began working in higher education with an NASM-accredited school of music. Because her love of entertainment technology was still strong, Smith stayed in touch with active community members through groups like the Long Reach Long Riders and trade shows like USITT, which is how she had the opportunity to meet with ESTA's Executive Director, Erin Grabe, and ETCP Council Chair Tim Hansen about the ETCP Program Manager position.
"I have long respected ESTA's work to drive safety in the industry," Smith said of her desire to join the ESTA team. "I am looking forward to having an active role in that effort." She is also excited to return to the industry she loves while utilizing the skills she has developed during her time in higher education.
Smith hails from the eastern panhandle of West Virginia, where she enjoys canning, The Golden Girls fandom, and exploring Virginia wine country with her partner. She is also an accomplished motorcyclist, having completed the Iron Butt 50CC cross-country motorcycle trip from San Diego, CA, to Tybee Island, GA, in only 45 hours.
If you have questions about ETCP and wish to get in touch with Smith, you may contact her at christina.smith@esta.org or 212.244.1505 ext. 705.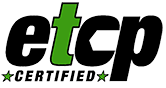 ABOUT
About ETCP
Code of Ethics
Council Members
FAQ
Staff Listing
Test Developers
ETCP SPONSORS
Sponsors
Media Partners
ETCP NEWS
ETCP Press
ETCP Press Archive
Protocol Articles

RSS Feed